Anitria Odum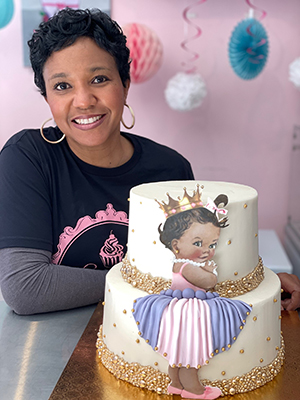 Many times when you read a cake decorator's bio it talks about how they started baking at a very tender age or how they use to bake as a child with their mother or grandmother, but as for Anitria, that is not her story. She discovered cake decorator during her wedding planning years. She wanted to be able to offer her brides edible favors such as the wedding cookies and cupcakes. Anitria has always been a creative and crafty person so she figured she could learn how to bake and decorate the cookies herself.
Since the cookie classes had been cancelled at her local craft store they offered Anitria cake decorating courses where she could still learn the cookie decorating concept. That's where at the age of 34, she discovered her passion and hidden talent for cake decorating. She began taking different cake decorating classes and spent many hours reading books, doing internet research on baking and cake decorating, and watching cake shows for inspiration. From there she turned her knowledge and love for cake decorating into a home based cake and cupcake business, 4 Every Occasion Cakes & Cupcakes. She began doing cakes and cupcakes for family and friends for many different occasions such as weddings, birthday parties, anniversaries, graduations, church events, and the list goes on. 4 Every Occasion Cakes & Cupcakes, a black owned business, now specializes in customized cakes for ever occasion imaginable!
Because Anitria was very new to the cake world she wanted to gain more experience in the industry so she took a part time position as a cake decorator at one of Philadelphia's well known bakeries. There she was able to absorb more knowledge which in turn helped increase her talent. To this day she is always looking to improve her decorating skills and expand her business. She continuously takes on new cake challenges presented by her clients exceeding their expectations. Quality service and excellence is what she strives for with every cake creation. Customer satisfaction is number one at 4 Every Occasion Cakes & Cupcakes!